Super Soccer Camps Staff
Jay Martin, Director of Super Soccer Camps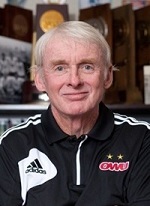 How broad is Ohio Wesleyan head coach Jay Martin's record of service to soccer? Come up with any combination of level (high school, college, professional) and function (player, coach, administrator), and he's probably done it.

Martin is the winningest coach in college men's soccer history with a total of 683 wins. He has guided his 40 Battling Bishop soccer teams to a 683-134-66 record. His career winning percentage of .814 entering the 2016 season ranked seventh all-time.

Last year, the Bishops finished fifth in the North Coast Athletic Conference championship race with a 5-2-2 record, advanced to the NCAA Division III tournament and finished with a record of 10-5-3.

In 40 seasons, Martin's teams have compiled a 263-26-18 record in conference play, a winning percentage of .886, and have won 26 conference crowns.

In 2011, Martin guided Ohio Wesleyan to its second NCAA Division III national championship. Along the way, the Bishops extended their unbeaten string in NCAC competition to a league-record 40 games.

Another peak in Martin's already-illustrious coaching career came when he guided the Battling Bishops to the 1998 NCAA Division III championship.

His teams have reached the NCAA Division III semifinals 9 times, finishing as national runner-up twice in addition to the 1998 and 2011 titles. They have brought home 12 regional titles, including 9 in the last 15 seasons that the NCAA tournament included a regional format. Ohio Wesleyan holds the NCAA Division III record with 39 playoff appearances and has recorded 62 playoff victories.

Martin's teams set another NCAA record with 18 consecutive Division III tournament berths from 1978-95 and have won an unprecedented 23 Stu Parry Awards, the latter recognizing Ohio's top Division III team each year.

He has been the NCAA Regional Coach of the Year 16 times in his 40 years at Ohio Wesleyan and was named NSCAA national Coach of the Year in 1991, 1998, and 2011. In 2000, Martin received the Ohio Collegiate Soccer Association's Honor Award, only the fourth time that award was bestowed since the association's founding in 1949. He received the National Soccer Coaches Association of America's Honor Award in 2007.

Under Martin's guidance, Ohio Wesleyan was the winningest men's soccer team in the NCAA -- regardless of division -- during the 1980s, compiling a winning percentage of .815 to top such programs as Indiana, UNC-Greensboro and UCLA. The Battling Bishops bettered that during the 1990s, compiling a winning percentage of .825, and improved upon that during the 2000s, with a winning percentage of .827.

His lacrosse teams posted an 8-year record of 104-34, winning 4 Midwest Lacrosse Association titles, earning 6 NCAA playoff bids and twice making Martin the MLA Coach of the Year. And talk about developing individual talent -- in both sports, in 48 seasons, Martin has turned out 60 All-America and 207 All-Mideast or All-Midwest players.

Martin calls having fun the key. "Of course, to have fun you have to do your best," he adds, "and it helps to do so against the best competition." Hence, the Bishops' perennially ambitious schedules, liberally sprinkled with nationally-ranked opponents. He favors a skillful, ball-control game and rates his players as "first-class athletes and men."

Beyond coaching, Martin also has served soccer with a term as president of the National Soccer Coaches Association of America as well as a 6-year stint on the NCAA Division III selection committee, including 4 years as committee chair. He has been a color analyst of the Major League Soccer's Columbus Crew for 9 seasons. In addition, he took over as editor of the NSCAA's The Soccer Journal in January, 2003, becoming the publication's third editor since its establishment in 1950.

Martin is a professor in Ohio Wesleyan's physical education department and served as the Battling Bishops' athletics director from 1985-2004. During his 19 years as athletics director, Ohio Wesleyan intercollegiate athletics enjoyed unprecedented success. Ohio Wesleyan won a conference-record 6 consecutive NCAC all-sports championships from 1988-94. More recently, the Battling Bishops finished in the top 25 of the NACDA Directors Cup NCAA Division III standings in 6 of the last 8 academic years under Martin's leadership.

Prior to joining the Ohio Wesleyan faculty, Martin served as a 2-sport assistant at The Ohio State University, from which he received both M.A. and Ph.D. degrees. Earlier, he was director of sport at the Munich, Germany, YMCA, coaching soccer, volleyball, basketball and lacrosse; and athletics director at the American International School at Dusseldorf.

A native of Hingham, Mass., Martin received his B.A. degree from Springfield College in 1971. He lettered in soccer and lacrosse, earning All-America laurels in the latter. In Germany, he also played soccer for the Kaiserwerth Club, played professional basketball and served on the staff of the Volleyball Pavilion at the 1972 Olympics.
Travis Wall, Assistant Coach/Assistant Camp Director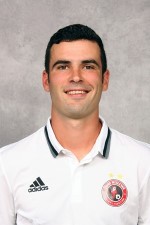 Travis Wall enters his third season as a member of the Ohio Wesleyan men's soccer coaching staff. He serves as the recruiting coordinator for the Battling Bishop men's soccer program.

During his first season back on the Battling Bishop sideline, Wall worked closely with the Ohio Wesleyan attack that led the North Coast Athletic Conference in goals and assists, and produced the conference's Offensive Player of the Year and an All-America forward.

Prior to returning to Ohio Wesleyan in January, 2015, Wall served as director of soccer operations at Xavier University for the 2014 season, helping the Musketeers to the best season in the program's history. Xavier advanced to the final 16 teams of the NCAA tournament, upsetting fifth-ranked Indiana along the way, and set school records with 15 victories and 11 shutouts. The Xavier coaching staff was recognized as the Big East Coaching Staff of the Year.

Before going to Xavier, Wall signed with Minnesota United FC of the North American Soccer League, playing there for 2 seasons. While playing in Minnesota, Wall began his coaching career at the University of St. Thomas (Minn.), helping guide the Tommies to a 21-9-7 record during the 2012 and 2013 seasons.

Wall is a 2012 graduate of Ohio Wesleyan. He was one of the most-decorated players in Battling Bishop history, earning first-team All-America honors after his junior (2010) and senior (2011) seasons. In 2011, he was named NCAA Division III Player of the Year after leading the Bishops to the national championship. He posted 19 goals and 15 assists that season, and his 53 points was the second-highest single-season point total in Ohio Wesleyan history. Wall totaled 49 goals and 36 assists during his career, ranking fifth on both Ohio Wesleyan career lists, and his 134 total points also ranked fifth.

Wall is the brother of Tyler Wall '11 and Sarah Wall '05, each of whom were 3-time All-America selections in soccer at Ohio Wesleyan.

In June, 2016, Wall completed his coursework toward a master's degree in recreation and sport sciences from Ohio University.

In addition to his duties at Ohio Wesleyan, Wall also serves as a club soccer coach with Ohio Premier Soccer Club. In 2016, Wall led his U16 boys team to a third-place finish at the U.S. Youth Soccer national championships after claiming the first boys Midwest regional title in club history.

He is a native of Columbus, Ohio.
Drew Kaszubski, Assistant Coach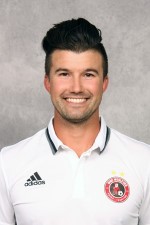 Drew Kaszubski is in his ninth season as an assistant men's soccer coach at Ohio Wesleyan University.

Kaszubski designs, implements, and administers all in-season and out-of-season performance development programs and works with the Ohio Wesleyan athletic training staff on injury prevention and rehabilitation. He is certified through the National Academy of Sports Medicine (NASM) as a Performance Enhancement and Corrective Exercise Specialist (PES, CES). Kaszubski's work with the men's program, which began in 2008, has significantly decreased the amount of range-of-motion injuries and the number of games missed.

He came to Ohio Wesleyan after coaching for 3 seasons at the club level with the Worthington Crew juniors. Earlier, he spent one year teaching English and coaching soccer in Japan.

Kaszubski is a 2007 graduate of Ohio Wesleyan. He lettered 4 times as a midfielder for the Battling Bishop men's soccer team.

He is a native of Wyoming, Ohio.

He is a native of Wyoming, Ohio.